What happens when I submit an application?
You need to submit an application for each dog you are interested in, making sure to tailor it to the needs of that particular dog.
You will receive an email outlining next steps within 2 business days.
How are the applications assessed?
Our adoptions team read through each application and will select the most suitable applicant to come in for a meeting.
Will I be updated on the outcomes of each dog?
When we have received enough applications to assess the advert will be removed. All of the applicants will be updated throughout each stage of the process.
Do you accept interstate applicants?
We only accept applications from the same state the dog is based in.
What should I expect when I take my adopted dog home?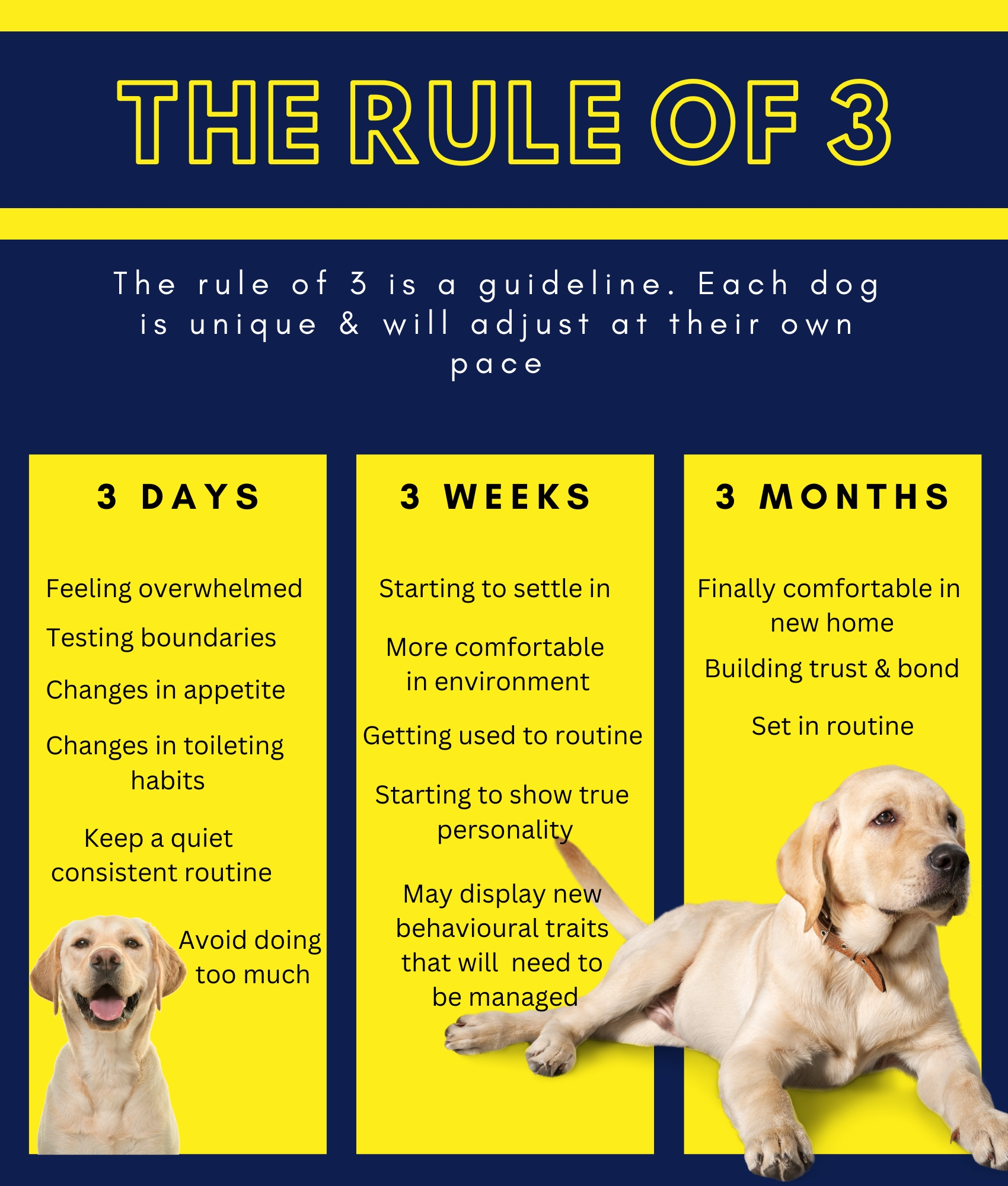 DOGS AVAILABLE IN VICTORIA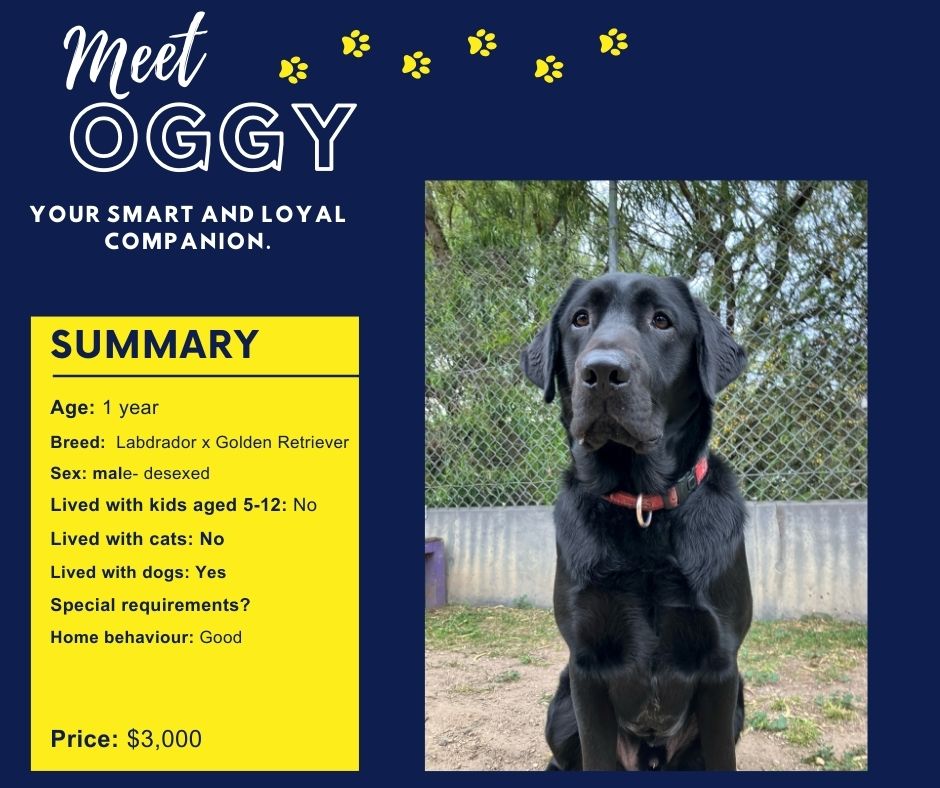 Oggy is being re-advertised as his previous adoption was not successful.
Oggy does not enjoy a kennel environment as it is too busy for him. He will be quite vocal during his adoption meeting however this doesn't seem to translate to his home behaviour where his carer reports he is relaxed and settled.

Oggy needs a patient home where his gentle and loving nature can shine. He is a smart and sometimes opportunistic boy. If he knows he can get away with cheeky behaviour he will continue to do it, keeping you on your toes.
Oggy will require a home where he is not left alone for long periods. He has been vocal in the past when left by himself and may decide to rearrange small items in your house if given too much time on his own.
Strengths:
Walking on the Lead:
Oggy is a wonderful walking companion who stays focused and attentive during walks, making every outing enjoyable.
Basic Obedience:
He has a good grasp of basic obedience commands, making him a well-behaved and responsive dog.
Accepting of Walking Equipment:
Oggy is trained to target and is accepting of any walking equipment, ensuring that your walks together are a breeze.
Challenges:
Vocalizing:
Oggy may express himself through vocalizations, but with patience and understanding, he'll learn to communicate in a quieter manner.
Settling Away from Handler:
Sometimes, Oggy can find it challenging to settle away from his handler. Gentle encouragement and training will help him become more comfortable in such situations.
Occasional Overexcitement:
Oggy's enthusiasm for life can sometimes lead to overexcitement, but his loving nature makes it easy to redirect his energy positively.
Daily Routine:
Oggy's daily routine includes waking up at 7 am, relaxing in his crate for 1-2 hours, enjoying breakfast, and heading to work with his favorite human. He's a loyal companion who follows you throughout the day, eager to be by your side. After a productive day, he looks forward to dinner and a peaceful night's sleep.
Home and Family Life:
Oggy grew up in a loving family home with two adult children and shared his space with a 10-year-old Staffordshire Terrier. His experience in a family setting has made him adaptable and loving, making him an excellent fit for a variety of households.
Crate Training:
Oggy is well accustomed to crate training. He sleeps in his crate overnight and will relax in it as needed throughout the day. While he may get restless in a crate outside of his home, he excels in crate behavior when at home. Remember, a little patience goes a long way in helping him adjust.
What We Enjoyed About Oggy:
We've cherished every moment spent with Oggy, and his ability to learn quickly has been truly remarkable. His sweet and loving nature has warmed our hearts, and we believe he has even more love to give to the right family.
Oggy is available from our Kensington training facility.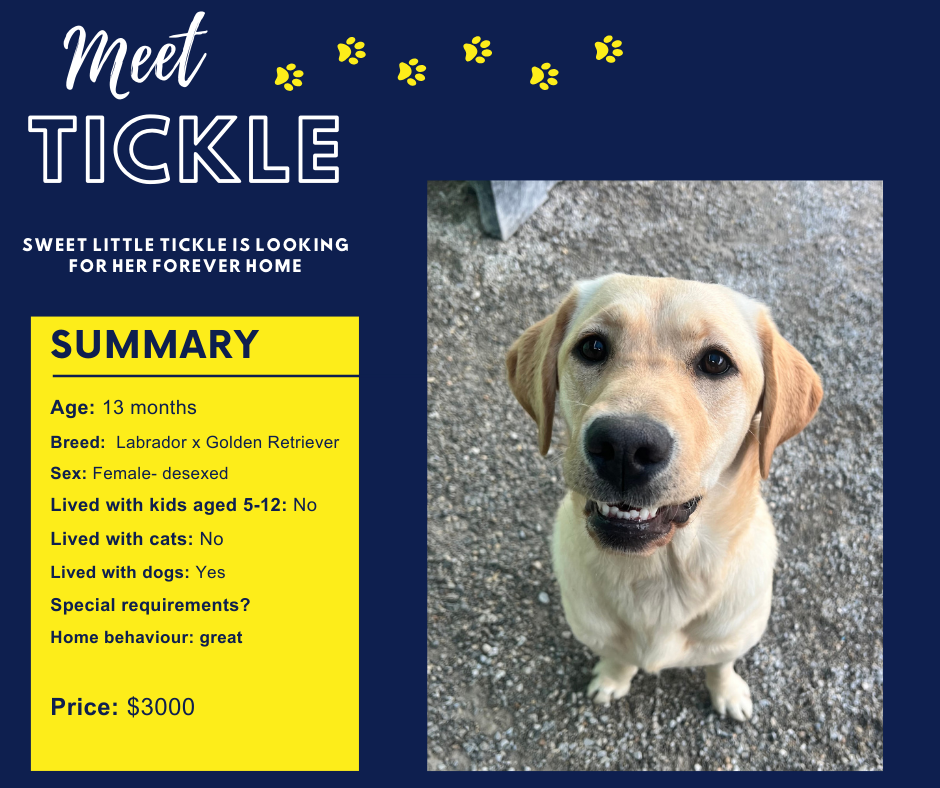 About Tickle
Tickle is not progressing in the Seeing Eye Dog program as she doesn't have the resilience needed for a working life. She will make a beautiful and happy pet.
Tickle is a charming dog with a heart of gold. Tickle walks well in a head collar and is a pro at snoozing in her crate overnight, finding comfort in her cozy den.
Raised in a bustling household with two teenagers, two dogs, chickens, and even a turtle, Tickle has grown up in a diverse and loving environment.
Tickle can sometimes make herself at home on the couch and will need boundary setting if this is not desired in your household. Tickle's strengths lie in her beautiful nature, adaptability, and an innate calmness that makes her a joy to be around.
Tickle's Love Language
One of her greatest challenges is that she simply adores everyone she meets! Her love knows no bounds, making her an incredibly loving companion for all.
What We Love About Tickle
Tickle has been a delight to train, much like her Uncle Jonty. She exudes a chilled-out demeanor, remaining calm, relaxed, and well-mannered, especially during training sessions and outings.
Daily Routine
Tickle's average day includes playful mornings from 7 am onwards, followed by a refreshing walk in the mid-morning. Afternoons are her relaxation time in the crate while her family handles their daily errands. Dinner at 5:30 pm marks the end of her eventful day, leading to bedtime at 9:30 pm. Her schedule may vary with family outings or appointments during the day.
Tickle is on the lookout for a family who appreciates her loving nature and can provide her with a warm, affectionate environment. She thrives on companionship and is ready to fill your home with joy, laughter, and endless cuddles.
Tickle is available from our Kensington training facility.
Have you thought about Puppy Caring?
You can care for a pup from 8 weeks up to 15 months of age, either full-time or a minimum of 6 months if a shorter time is more suitable for you. Apply now.