Question: What do you, camels, travel and Seeing Eye Dogs all have in common?
Answer: You all create boundless possibilities!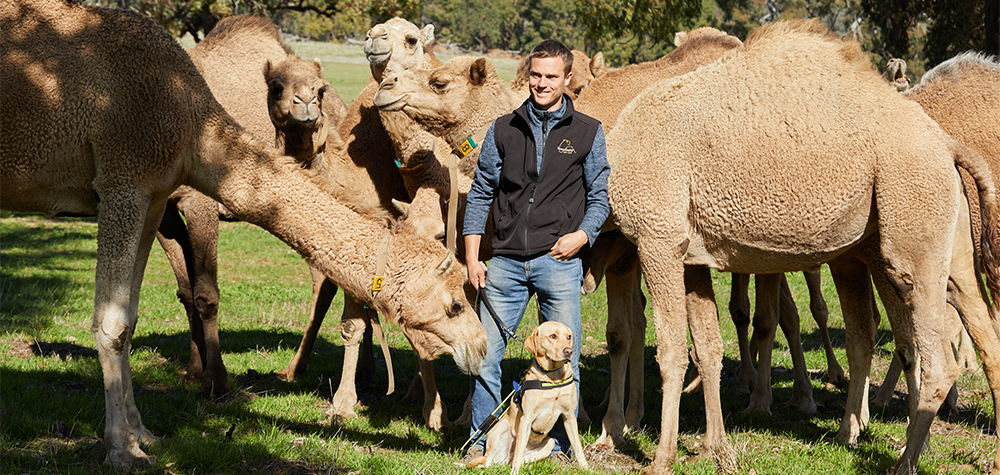 When Max was a child, he never dreamed he'd end up running a camel farm in outback Western Australia.
For a start, he lived in Germany. But more than that, he was going blind.
He didn't count on people like you who would make it possible for him to have a Seeing Eye Dog.
Max's Seeing Eye Dog Fawn means he can live the life he chooses, running a farm, raising a young family and growing an international business – all with just three percent vision.
Max said,
'Whether we're in downtown Perth navigating the city, or out on the farm trying to find something in a far paddock, Fawn simply adapts. She keeps the same calm temperament and brings the same exceptional capabilities.

'She doesn't mind where we are, in the city or country: she just does her job - guiding me around obstacles and stopping at the curb, and it doesn't matter where it is.

'It's the independence and freedom you get.'
A gift to help train Seeing Eye Dogs is a gift of boundless possibilities. It's a gift of freedom, confidence and independence.
Right now, we have waiting list full of people needing for the Seeing Eye Dog who will open up their life. We urgently need your help to train more Seeing Eye Dogs for people who are blind or have low vision.
Please give a special Christmas gift today to help train more Seeing Eye Dogs. It's a gift of boundless possibilities.