'We have a great partnership. He always keeps me safe.' – Christine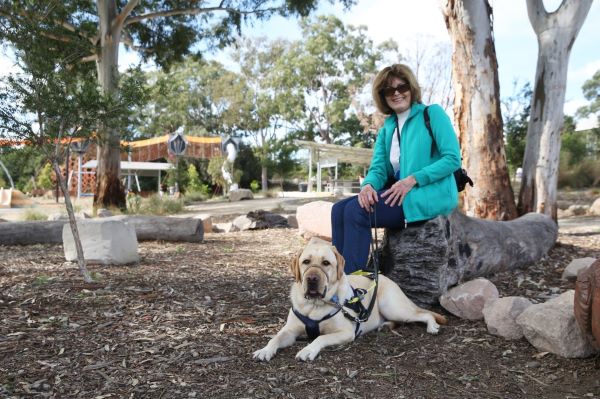 Thanks to Yoshi, Christine no longer has to face her fears alone.
Christine has had a difficult few years.
Not long after she started to lose her sight, her marriage broke down. Unable to trust her vision, Christine chose to stay at home more and more. However, she didn't always feel safe there.
Like many women, Christine had faced violence at home in the past. And as her eyesight decreased, she felt more and more vulnerable.
You see, Christine is not only losing her eyesight, but she has been struggling with her hearing, too. It's why her Seeing Eye Dog, Yoshi, has truly changed her life. And why your support today can change many more lives like hers.
The fact that Yoshi helps Christine not only with her sight but has also adapted his skills to help with her hearing loss as well, is a testament to his remarkable training. The difference he has made to her life is incredible.
Like most Seeing Eye Dogs, Yoshi is incredibly special, and very, very smart!
'Not only can I trust him to be my eyes, but he has adapted his behaviour and learnt to be my ears, too,' Christine said.
Together, they've formed a special relationship.
'We look out for each other and he listens to me. I've got to be in control of him, but there are times when I become disoriented, and he just takes over.'
We can only imagine how tough these past few years have been for Christine. To lose your eyesight and then your hearing—to no longer feel safe when you leave your home or when you're in it— would have been very, very difficult.

It's why your support, and the incredible difference a Seeing Eye Dog like Yoshi can make, is truly life changing.